Pendimethalin Products
MOQ:1 ton
Support samples
What crops is Pendimethalin Products suitable for?
Pendimethalin Products is a selective pre-emergence and post-emergence upland soil treatment herbicide. Has broad spectrum herbicidal activity. It has good control effect on broadleaf weeds and grass weeds.
It is suitable for corn, potato, rice, cotton, soybean, tobacco, peanut, sunflower fields. Can remove many types of weeds. Such as barnyardgrass, chickweed, pigweed, purslane, hunter's nest, duckweed, and amaranth retroflexus. The dosage is 0.6~2.4 kg/hm2.
In addition, pendimethalin is also suitable for use in Chinese medicinal fields, orchards, tea gardens, etc. However, it should be noted that pendimethalin is not suitable for melon crops.
In addition, Pendimethalin Products is safe for crops such as corn, potatoes, rice, cotton, soybeans, tobacco, peanuts, and sunflowers. Safe for most subsequent crops. However, the control effect against amaranth retroflexus, nightshade, pigweed and purslane is not ideal. It has poor control effect on Cyperaceae weed Cyperus rotundus.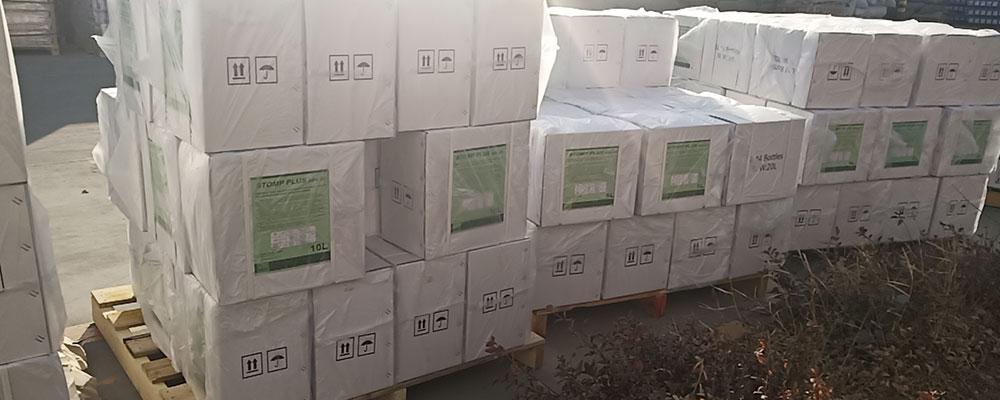 Pendimethalin application rate
Pendimethalin usage technology – cotton fields
Compared with trifluralin, the operation technology is simple, and it is safer for cotton and does not harm the roots.
Instructions
1-3 days before cotton planting, the soil spraye evenly. Or soil spray treatment within 3 days after cotton planting. To control gramineous weeds, the dosage is 150-200 ml per acre, mixed with 30-50 liters of water. To control broadleaf weeds, increase the dosage, 200-250 ml per mu. Add 30-50 liters of water.
Note:
1. After the soil is sprayed, 3-5 cm of soil can be mixed, or no mixing is required.
2. Grow seedlings in nutrient bowl seedbeds, spray them after sowing and covering them with soil, and then cover them with film. The dosage should be appropriately reduced according to the above situation. Reduce the dosage by 1/3-1/2.
3. The product may cause contact poisoning to cotton buds.
4. Pendimethalin is ineffective against nightshade and amaranth and field bindweed.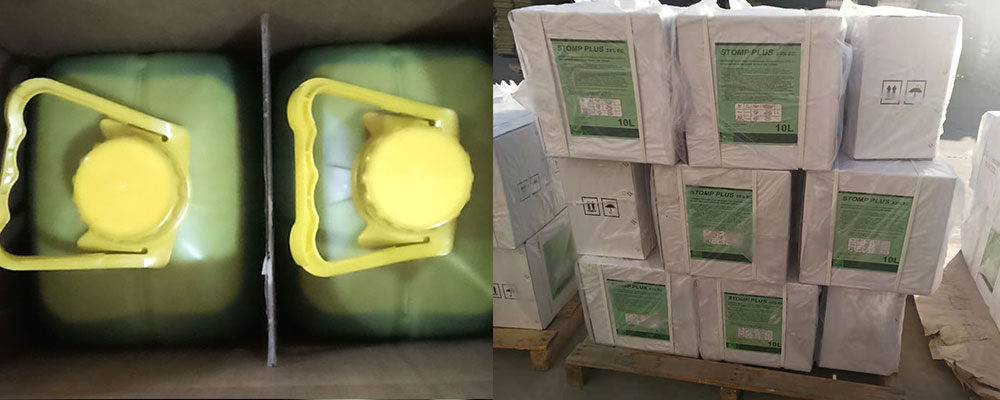 Pendimethalin Products usage technology – corn field
Apply pesticide within 3 days after corn is sown and before emergence. The dosage per mu is 200-300 ml, mixed with 30-50 liters of water.
Note:
1. 33% Pendimethalin Products + 38% atrazine: Improve the effect on broad-leaf weeds such as nightshade, chicory, chrysanthemum, commelina, ragweed and other broad-leaf weeds.
Instructions
Spring sowing peanuts in the open field: Soil treatment dosage per mu is 150-200 ml
Spring sown peanuts covered with film: Soil treatment should be carried out 1-3 days after sowing and before covering with film. The usage of the same herbicide for mulched spring peanuts and summer peanuts is 1/3 to 1/4 lower than that for open field spring peanuts. The dosage per mu is 130-150 ml.
Note:
1. It is not recommended to mix soil after applying pesticides.
2. Use caution or prohibition on sandy soil.
Pendimethalin Products usage technology -potato
Film-mulched fields: The best option is to apply pesticides after sowing and before covering with soil. The pesticide apply within 1-3 days after sowing as much as possible.
The dosage per mu is 150-200 ml, mixed with 30-50 liters of water. Cover the film promptly after administration.
Open field: After sowing and before seedlings, the dosage per mu is 150-200 ml, and the water is mixed with 30-50 liters. If the weather is dry, choose a shallow layer of mixed soil with 3-5 cm and spray water on the soil surface for 3-5 days to ensure that the soil is moist and the formation of A good film layer to improve the weeding effect.
Note: It is forbidden to use pendimethalin after potatoes have emerged.
Awiner customized pesticide packaging display


Why choose Awiner Biotech?
Q1. How to get more information about new products?
Awiner: You can contact us through Alibaba, and we will assign you a dedicated consultant to answer all your questions.
Q2. What can you buy from us?
Awiner: Pesticides, herbicides, fungicides, plant growth regulators, public health pesticides.
Q3. Can you add our own logo on the product?
Awiner: Yes. Please send us your Logo and we have a professional team to design the packaging for you.
Q4. How does your factory do in terms of quality control?
Awiner:Quality is the life of the company. We have a professional quality inspection team to control product quality.
Q5. How do I order?
Awiner: Please contact our salespeople through the inquiry form or Whatsapp and Wechat. The salesperson will solve all purchasing problems for you.
Q6. The acceptable delivery terms are:
FOB, CFR, CIF, CIP, CPT, DDP, DDU, Express.
Q7. Acceptable currencies:
US dollars, Euros, Hong Kong dollars, and RMB.
Q8. Acceptable payment methods:
Trade Assurance Supplier, T/T, Visa, Paypal, Letter of Credit, etc.