There are as many as 350 species of rice pests in the world, and rice is the food crop with the most types of pests. However, only 5 species of the common and serious damage are Chilorrhizae chinensis borer, Sanhua butterfly, Rice leaf roller, White-backed planthopper and Brown planthopper. Nearly 30 species of rice gall midges, rice thrips, rice stinkbugs, armyworms, leaf miners, etc. are more serious in some areas or in certain years.
Rice leaf roller
Latin scientific name: Cnaphalocrocis medinalis Guenee. Also known as rice vertical leaf roller, scraping caterpillar, belongs to the moth family.It is one of the main pests in my country's rice-producing areas and in various rice areas. In addition to rice pests, it can also harm crops such as barley, wheat, sugar cane, and fruit, as well as weeds such as Lishihe, sparrow, double sparrow, crabgrass, foxtail grass, cricket grass, thatch, and reed. The larvae damage rice, attach to the leaves to form longitudinal bracts, hide in them, feed on the upper epidermis and mesophyll, leaving only the white lower epidermis. Injury at the seedling stage will affect the normal growth of rice, or even death; damage from staging to jointing stage will result in reduced tillering, dwarfing of plants, and delay in growth period; decline. Distributed in China, North Korea, Japan, Thailand, Myanmar, India, Pakistan, etc.

(1) Biometrics

Adult 7~9mm, light yellowish brown, with two brown horizontal lines on the forewing, a short line between the two lines, and a dark brown broad band on the outer edge; two horizontal lines on the hind wing, and a broad band on the outer edge, see Figure 31 ( Right): In the middle of the front edge of the forewing of the male moth, there is a shining but sunken "eye point", while the forewing of the female moth has no "eye point".
Eggs are about 1 mm long, oval, flat and slightly raised in the middle, white and transparent when first laid, light yellow when nearly hatched, and black by parasitized eggs.
The larvae are 14-19mm long when they are mature, the young larvae are green, then turn yellow-green, and the mature larvae are orange-red. The pupae are 7-10 mm long, initially yellow, then turn brown, oblong.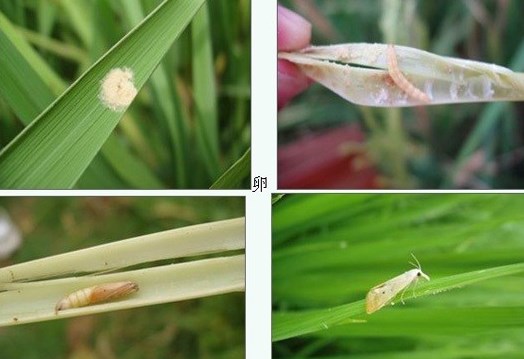 (2) Environmental impact of Rice pests
The occurrence and damage of rice leaf roller are often related to the following factors:

(a) temperature and humidity.
The suitable temperature for the growth, development and reproduction of the rice leaf roller is 22~28℃, and the suitable relative humidity is above 80%. Above 30°C or below 70% relative humidity is not conducive to its activities, spawning and survival. Under the right temperature, humidity and rainfall are an important factor affecting the amount of occurrence.When the rainfall is suitable, the probability of conception and egg laying of adults will increase. When there is less drought, the pregnancy rate and hatching rate are significant. However, excessive rainfall, especially continuous heavy rain during the full moth stage or the full hatch stage, is not conducive to the activity of adults, the attachment of eggs and the survival rate of young larvae.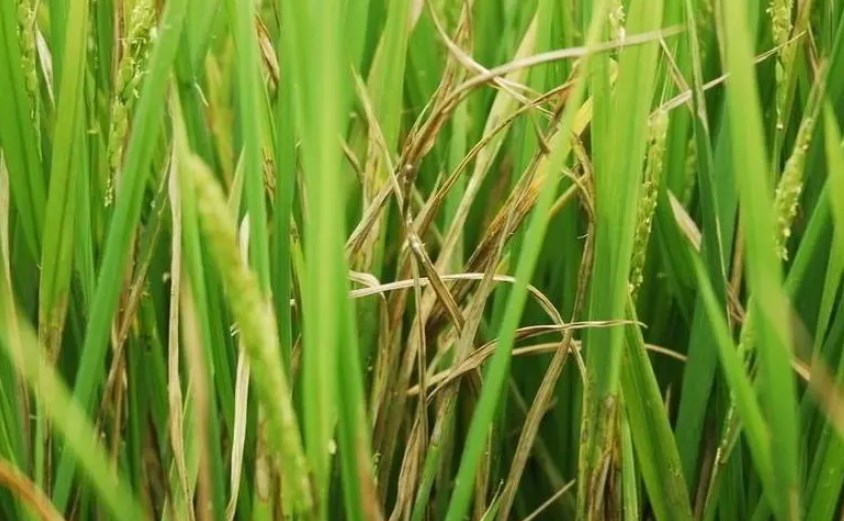 (b) Planting system and food conditions.
Generally, the occurrence generation under continuous cropping conditions is larger than that under intercropping conditions. At the same time, the status of migration is also related to the rice planting system. Leaf roller moths generally migrate northward from South China to the rice fields in Central China, then migrate northeast from Central China to East China, or fly from East to northwest to northern rice fields, and migrate back from north to south. In addition to meteorological factors, food conditions are also very important factors for this migratory flight behavior. Migration generations basically occurred in the later stage of rice milk ripening, which can explain this problem.

(c) Natural enemies.
There are many kinds of natural enemies of rice leaf roller, and the parasitic wasps mainly include Trichogramma, Trichogramma australis, Trichogramma and so on. The degree of damage to rice leaf rollers in the field populations of each rice region mainly depends on the degree of coincidence between the rice planting system and the tillering and booting stages of rice.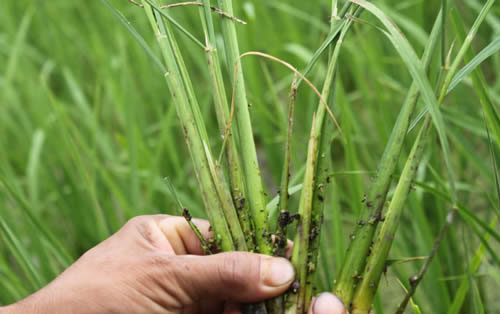 (d) Prevention methods
(1) Select insect-resistant varieties. Different rice varieties have different degrees of damage. Generally, the varieties with hard leaves, thin flesh and narrow leaves are less prone to occurrence.
(2) Strengthen fertilizer and water management. Reasonable fertilization and timely baking of the field can promote rice growth and maturity, and prevent excessive growth in the later stage to reduce damage.
(3) Carry out biological control. In the moth peak period, use Trichogramma pine caterpillars and Trichogramma australis for control, and bacteria can also be used to control insects. Use bacteria powder containing more than 10 billion live spores per gram of Bacillus faecalis and Penicillium fungus, 100~200g per mu, Add a small amount of washing powder (about 1/5 of the pesticide dosage), add 60~75kg of water to spray, and generally use the medicine once every 4~5 days from the beginning of hatching, a total of 2~258. The application time is morning and evening Well, it can be used all day on cloudy days. If it is rainy, the concentration of pesticides should be increased, and attention should be paid to safe use of pesticides to prevent human and animal poisoning. Commonly used agents are: abamectin, abamectin compound. 2.8% abamectin + 3% hexaflumuron.